Welcome to Gr8fun Targets!
Making the UK's widest range of airgun targets - well over 200 airgun targets now available!
Gr8fun Airgun Targets produce top-quality Airgun Targets, Air Pistol Targets, Air Rifle Targets, Airsoft Targets and Rimfire Targets all at affordable prices. We are based in the south of England and source all our parts for the airgun targets from the UK, focusing on local businesses wherever possible.
We are a small family business that listens to what our customers want, you will see below some of the airgun targets we have made by request, many of which become our standard stock items. Don't forget, we are on both Facebook and Twitter where news of the very latest airgun targets, air pistol targets, air rifle targets and developments, free giveaways and special offers are published on a weekly basis.
Selling airgun targets online across the world as usual! (25 countries to date)
Latest NEWS!
2023
December 2023


More custom airgun targets have been completed.
I guess these will be the last custom airgun targets to be finished this year, the others will be delivered in the New Year.
LAST ORDERING DATES!
To be able to complete an order and get it out in time for Christmas delivery the last ordering date will be
13th December.
Should you place an order after this date we will do our best to get it out in time for Christmas but we cannot promise it will arrive in time.
The workshop will be closed over the festive period, but orders will still be taken, these will be dealt with in the order they arrived, once the workshop reopens on the 3rd of January 2024.
November 2023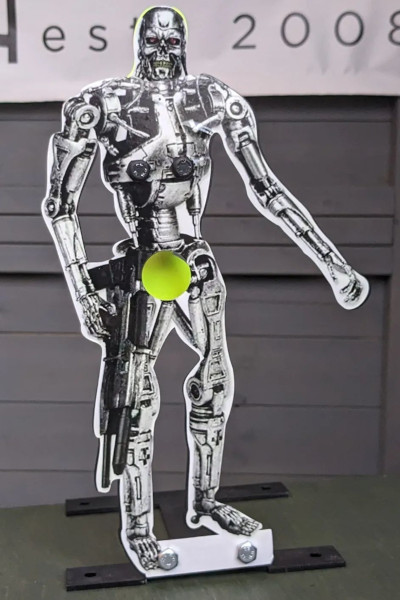 An incredibly busy month this month!
A whole army of Kill Zone Terminator airgun targets complete with vinyl faceplates have been sent off to the Umarex Boys Club (UBC) in preparation for the upcoming shows in 2024.
More custom targets than you can poke a stick at have been ordered this month expanding our range of offerings and making things a little more fun for me - I enjoy the challenge of making new targets, in case you had not guessed.
We still have another type of target for the UBC to finalise, probably early next month now.
Normally November and December are relatively quite, this year s going tobe totally the opposite, watch this space for all the new designs being released!!
October 2023
Another delivery of the custom resetting airgun targets, this time to Targets and Tins at Quarley, near Andover who have two superb airgun ranges with more airgun targets than I have ever seen on a shooting range; one goes back to nearly 100 yards!
Zoe at Targets and Tins was so pleased with her new airgun target she place an order for two more on the spot!
They have also challenged me to make some new airgun targets for them too - watch this space!
New targets on the way!
The Umerex Boys Club have asked Gr8fun Targets to design and produce some new targets for their stand at the British Shooting Show in 2024.
So I've been busy designing and testing the new ideas.
This is the first of the new ideas being tested, the steel has now been cut and assembly is underway.
The target will have printed vinyl faceplates to add detail. The next targets will also be a Terminator related shape, but should be pretty cool.
Watch this space!!
July 2023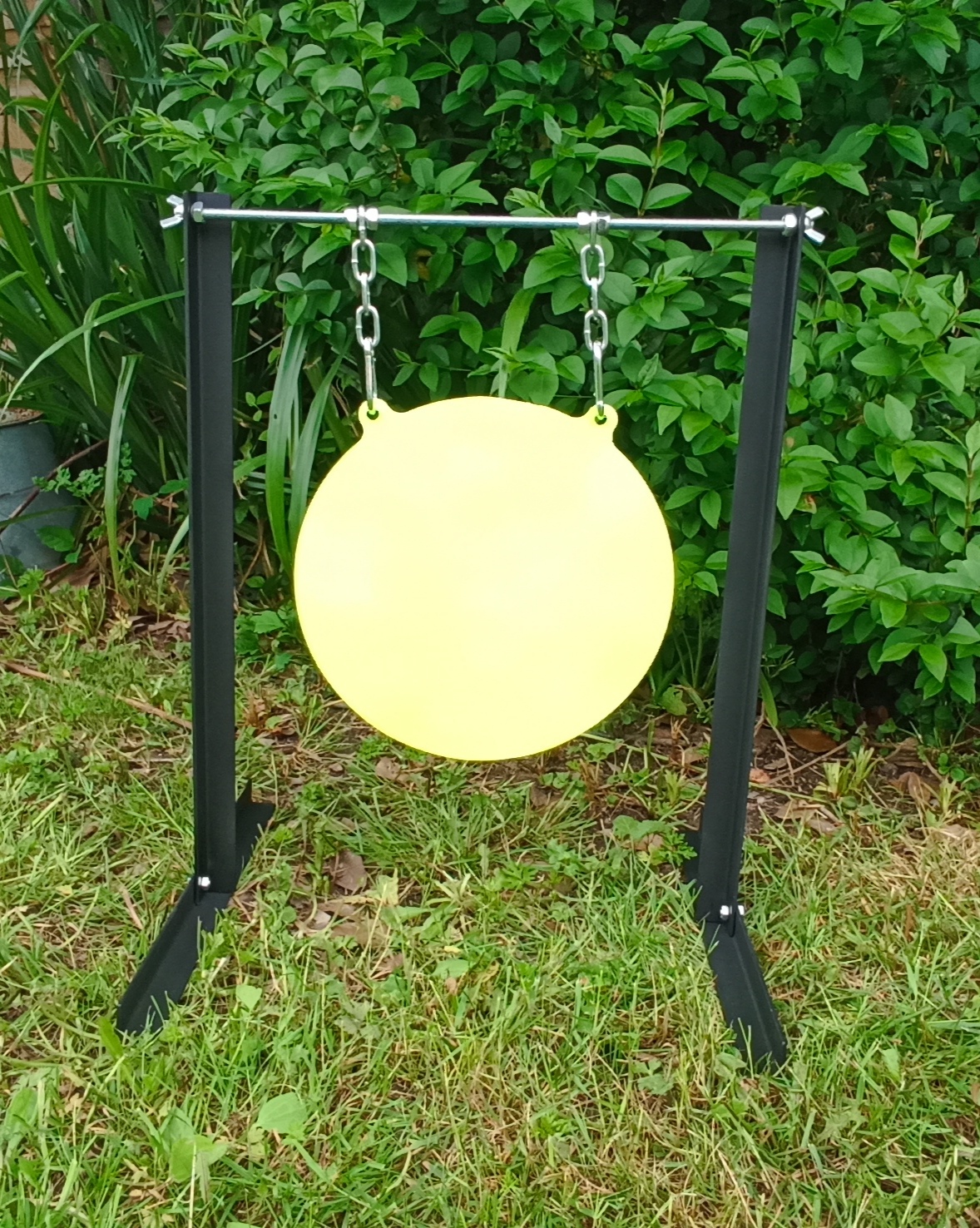 I've been asked to make some of the "long range gong airgun targets" in heavier steel. I've now got some 10 inch airgun target gongs in 3mm steel,
If you need any other sizes in different thicknesses all you need to do is drop me a line via the contact form and we can discuss your needs.
June 2023
Andy, of Andys Airgun Reviews, has published a review of a number of reactive airgun targets. In the review he looks at seven of our targets.
It is a fantastic review to check out, not just because our targets are featured, but because Andy is very charismatic, entertaining and easy to watch.
You can see it here...

March 2023
In response to a customer's request, we can now supply the 35mm Biathlon Airgun Target. It is the same CNC cut 3mm thick steel as the 49.5 Biathlon Airgun Target, but with a faceplate sporting slightly smaller holes at just 35mm. If you would like something similar but with different-sized holes please just get in touch and we can discuss your needs.
February 2023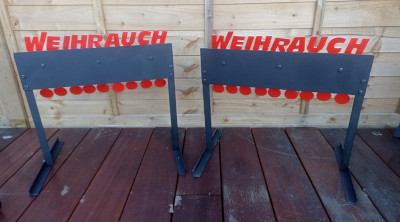 A pair of custom airgun targets made for Hull Cartridge, through Pickering Airguns for use on the try-before-you-buy Weihrauch ranges at the British Shooting Show and other shows throughout the country.
We are happy to make custom airgun targets, to your specification, but we are mindful of copyrights.
There have been requests for more of these custom airgun targets for general sale. However, we are awaiting confirmation from Hull Cartridge this would be OK and not infringe the copyright of their logo.
However, club names etc are all welcome provided you own the copyright.

The NRA-style family airgun targets have arrived!! Consisting of a Chicken, Hog, Turkey and Ram these little 1/10th scale (approx) silhouettes will provide hours of fun for all abilities.
Available as a full set or individually, so you can create your own little farmyard to blast away at, these steel airgun targets will probably last longer than your gun!
Order a set now and start building your small holding today.
January 2023

The first flocks are ready!!!!
The NRA-style Chicken Silhouette Airgun Target is CNC cut from 3mm steel. Approx 32mm high and 33mm wide these are basically 1/10th scale with a small base to make any reasonable strike successful but to keep it standing if it is a poorly placed "split".
Watch this space for more in the NRA-style family coming soon!!!!
Well, we seem to have hit the ground running for the first part of this new year!
New airgun target requests are dropping from left, right and centre! Still in the "testing stages" we are working on some NRA style silhouettes, tiny little airgun targets, for those who require a challenge. The first images were posted on social media and people were saying they would be set out at 50m+ - way beyond my abilities! But if you need a challenge then these will soon be available.

We have also been working on a new cordless resetting airgun target that will be unveiled at the British Shooting Show on one of the ranges... Watch this space.
This new airgun target system can be adapted to accommodate almost any top disk including lettering, NRA-style silhouettes, or random shapes that please you.
If you think you may have a requirement please drop me a line and we can discuss your ideas.
But that is not all, there are still drawings to be cut, expanding our already MASSIVE AIRGUN TARGET range even further!
Looks like 2023 will be a very exciting year!
2022
November 2022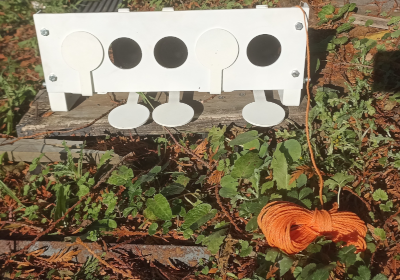 We are pleased to confirm we now have a limited number of Biathlon Style Airgun Targets in stock. There is still some finalisation to be done but the first few are ready to go.
Made from 3mm laser-cut steel these targets are designed to last. The hole is 49.5mm in size - should anyone require different-sized holes please drop us a line using the contact form and we shall see what we can do.
September 2022

The new Kill-Zone Zombie airgun target is now available! Using the same reliable kill zone mechanism as the other Kill Zone Airgun Targets, this airgun target is one for a shooter who needs to save the world from that terrible Zombie Apocalypse! It is never too early to get practicing!

As normal, made from 3mm CNC laser cut steel this airgun target will last years and years even if it is abused! Hours and hours of fun in the garden or down at the range.
August 2022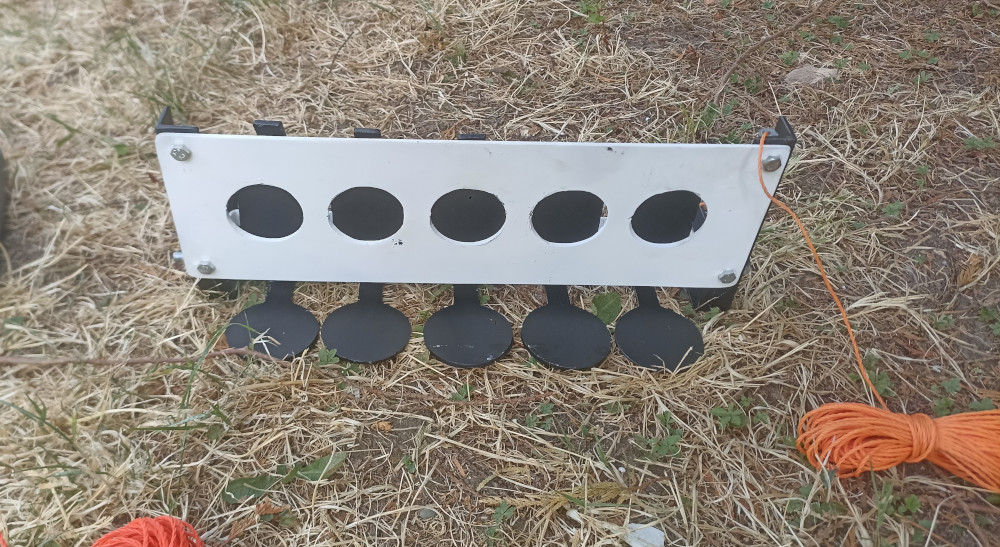 New Airgun Targets!!
I have been asked to make some biathlon-style airgun targets.
The first batch has now been sent out to the customer and drawings have been submitted to the laser cutter.
Apparently, no-one is holding this style of airgun target in stock so watch this space as they will soon be part of the Gr8fun Targets standard stock items.
Hopeful this will help out some clubs.
July 2022
I've recently been collecting pictures of customers' ranges and how they set up their airgun targets.
It is lovely to see the airgun targets I make in use.
This image is from Keith in Waikoloa, Hawaii.
I love the UV-Lit version the "Gr8fun green" really pops out!!
If you have a range or pictures of your airgun targets you would to share please use the contact form to let me know.
May 2020
We are still giving away 17cm airgun targets until the end of the month!
I thought I would share a message I recently received from a customer.
Hi

Thank you for acting so swiftly in sorting my order out.
Also thank you for the little note in the package apologising along with the targets. I work in customer services and little gestures like that go a really long way. Top marks for turning it around and I will be using you guys again

Thank you once again

Kind regards

R
It is lovely to hear from customers, particularly when things may not have gone quite to plan!

April 2022

**** Special offer ****

FREE pack of 50 17cm Practice Airgun Targets with every order*!!
Yup, Gr8fun Targets are going to be adding a FREE pack of 50 printed double-sided airgun targets with every online airgun target order received until the end of May 2022.
The sun is out!! Go on... get out shooting!!
(* Offer applies to UK orders only - sorry)
January 2022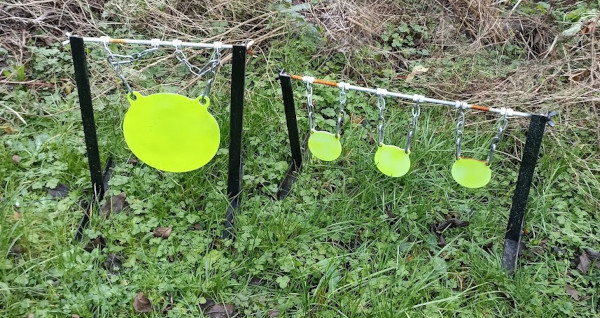 More new airgun targets for you guys!
I was asked to make some 10inch gongs for the long-range shooters out there. This is what I've done.
You can either buy just the gong and build your own stand in wood, steel or plastic pipes etc or you can order the airgun target, stand and chains as a "ready to go" solution. It's your choice!
CNC cut in 2mm steel, this airgun target makes a superb "ding" that can be heard at distance. Being in the slightly lighter 2mm steel it also moves a little more than if it were in 3mm (I can do 3mm too, message me!)
(Shown here next to the 3inch air rifle gong airgun targets on a stand)
Happy New Year!!!!
Confirmation the workshop is open again after the Christmas break and is getting back to normal. There is a small backlog of airgun target orders that have accumulated over the shutdown but nothing too disruptive.
We look forward to another superb year!
2021
December 2021
Please note the workshop will be closed from 13th December 2021. The website will be taking orders for all our airgun targets and these will be processed when we reopen on the 3rd Jan 2022.
A big "Thank You" to all our customers who have supported us this year. we wish you a very Merry Christmas break and look forward to hearing from you in the New Year!
September 2021

The airgun target offering is expanding even more!
One of our customers asked if we could produce an airgun target that is a little more challenging than the 15mm Garden Spinner airgun target...
...So we created a few:
Currently, they are only available as screw-in single spinner airgun targets but I'm sure they will get integrated into other airgun targets too - watch this space!
August 2021
Another new airgun target!!
This was requested by one of our trade outlets. It is the unique 6mm Cordless Resetting Airgun Target with Side Spinners!
Truly hours of frustrating fun as you *try* to knock over the tiny top airgun target that is made from 6mm thick steel and only just peeks over the top of the faceplate.
Yes, that little blip in the middle, at the top is a 6mm airgun target! - are you good enough to hit it?
Flanked on either side by a spinner of your choice - that by default will be a sharpshooter and a standard in order to provide you with the greatest selection of sizes for your airgun target, but you are welcome to choose any of our spinners if you wish.



April 2021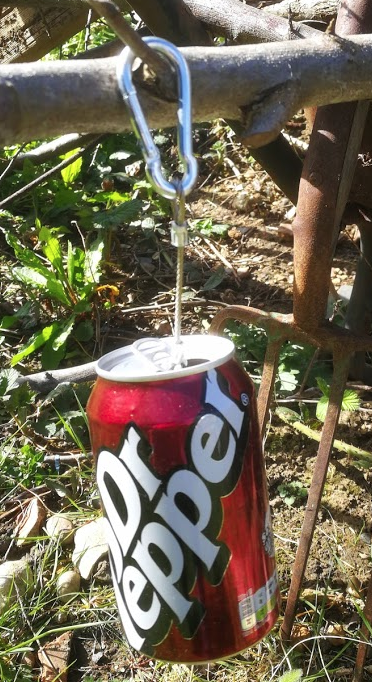 The New Can Hanger Airgun Target is available!!
Probably the easiest way to mount a drinks can! Everyone loves shooting empty drinks cans as airgun targets and they are free, easy to get hold of, and recyclable too! (Even after being shot)
The cans will either hardly move if you drill it perfectly or they will bounce about if you get the sides, top or bottom where the aluminimum is thicker, either way, you get a great sound as the pellet strikes.

Available in single and twin packs these fab airgun target hangers are going to be a common feature of gun clubs, ranges and gardens everywhere.
---
I was just starting to get on top of things.... and the sun came out!
When the sun comes out people seem to buy airgun targets. I did manage to set up and photograph a few of the outstanding airgun targets that have been patiently waiting to be added to the site.
These are the 3inch air rifle gongs - a little more challenging than their larger brother and these really do move when hit!
February 2021
Still really busy but the stock levels displayed for our airgun targets should be pretty accurate now.
Stay safe everyone!!
January 2021
Well, we hope you are all safe and well. Being a small business, in the manufacturing sector and having the workshops and home on the same site we are up and running as normal - sort of - I say sort of as you have been buying more airgun targets during lockdown than ever before! So "normal" is actually very busy!
It appears that everyone has grabbed their old airgun from the back of their cupboards - wardrobes - garages and decided a great way to spend lockdown time is to fling lead down the garden. Which is brilliant and our airgun targets were specially designed to provide hours and hours of fun doing just that.
The shops have been busy too selling our airgun targets, as a number of them choose to email me directly rather than ordering via the website. The result of this is the stock levels shown on the site may be a little out. I try to update them as often as I can but, as I'm sure you will agree my main priority is to get the targets made up and out as soon as possible.
I still have a number of new airgun targets that I have just not had time to photograph and load to the site, but they will be addressed as soon as the orders are completed.
Stay safe guys 'n' gals and have a superb 2021!!!
2020
December Christmas opening times.
Dues to stock levels and Xmas delivery times the last date you can order with a good chance of receiving your airgun targets before Christmas is 16th December.
After this, it will depend on what you order. Stock levels on the website may be a little inaccurate at the moment as there has been a flurry of orders from gunshops and ranges (new ranges! Which is great for us shooters) that have not used the site to place their orders. this will be sorted over the Xmas period.
The workshop will shut for Christmas from the 18th December until 4th January 2021. The site will happily take orders and payments and queue them until the workshop reopens.
Have a SUPERB Christmas break!
November 2020
30th November 2020 FREE Airgun Targets competition winner
This week's FREE Airgun Targets competition winner is "shumilovravil" (taken from part of the email address).
You have an email "shumilovravil".
A 100 pack of PDTs Airgun Targets will be on it's way as soon as we know where to send them!
Thank you to all who participated. Last weeks entries have been deleted and we are starting the list for this week!
Full details on how to win FREE Airgun Targets here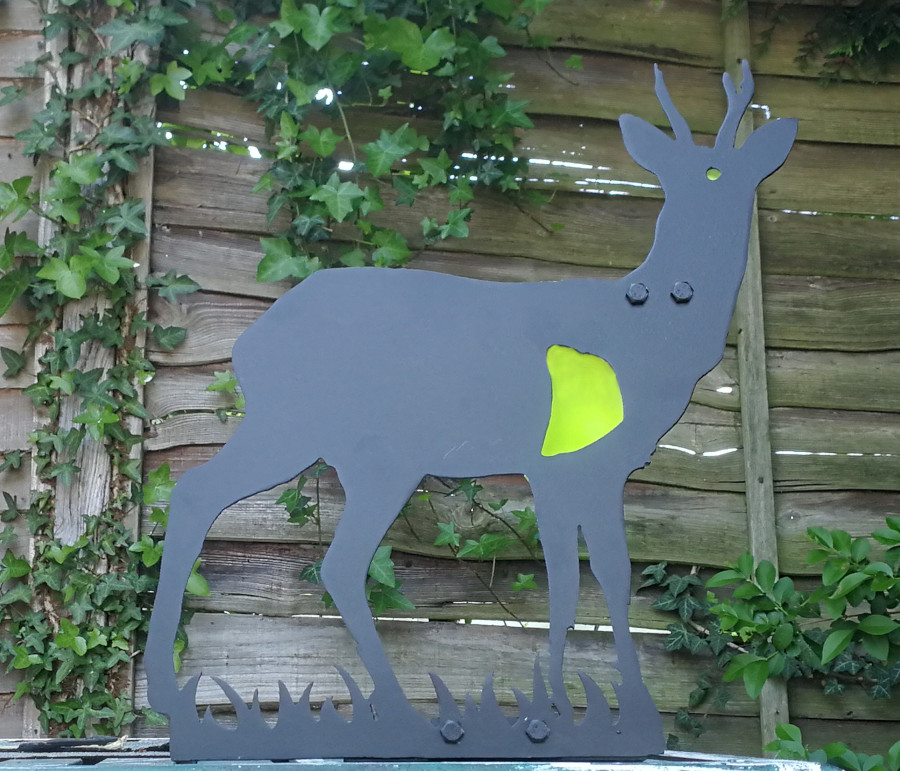 A quick update with this new Lockdown looming.
I work in my workshop and office at my home so production of our airgun targets will not stop. As I'm "manufacturing" I'm allowed to deliver my airgun targets to the wholesalers, post office and couriers should they need them (and all my airgun targets have been flying off the shelves for the last 6 months or more!!)
This means I've been busier than ever and as a result not had time to develop new airgun targets but this little beauty is *almost* ready.
I still have a small issue with flex of those looonnggg slender legs when a pellet strikes high up, but it is achievable.
No prices just yet as I'm still not totally happy with it and I have a HUGE backlog of orders to address for the trade etc. But I thought you may want to know
23rd November 2020 FREE Airgun Targets competition winner is "larskarr2016"
16th November 2020 FREE Airgun Targets competition winner is "M-j-w2001"
9th November 2020 FREE Airgun Targets competition winner "Banditboy87"
2nd November 2020 FREE Airgun Targets competition winner "anro47"
October 2020
26th October 2020 FREE Airgun Targets competition winner "jamesd1984"
19th October 2020 FREE Airgun Targets competition winner "peteandjanetc"
12th October 2020 FREE Airgun Targets competition winner "HW35jon"
5th October 2020 FREE Airgun Targets competition winner "kev1962"
September 2020
28th September 2020 FREE Airgun Targets competition winner "Stealthmoocher75"
21st September 2020 FREE Airgun Targets competition winner "cbr600"
14th September 2020 FREE Airgun Targets competition winner "larrykar"
7th September 2020 FREE Airgun Targets competition winner "cliffordel16"
July 2020
New gongs have arrived!
3mm thick for rifle use and just 75mm in size these will be a superb challenge at 50-100m or more!
Pic to follow soon.
24th March 2020
STILL OPEN FOR BUSINESS!!!
We are still open for online orders of airgun targets and *currently* the Post Offices and couriers are open for business.
Should this change then a message will be posted here, on the home page and any delays expected will be advised.
March 2020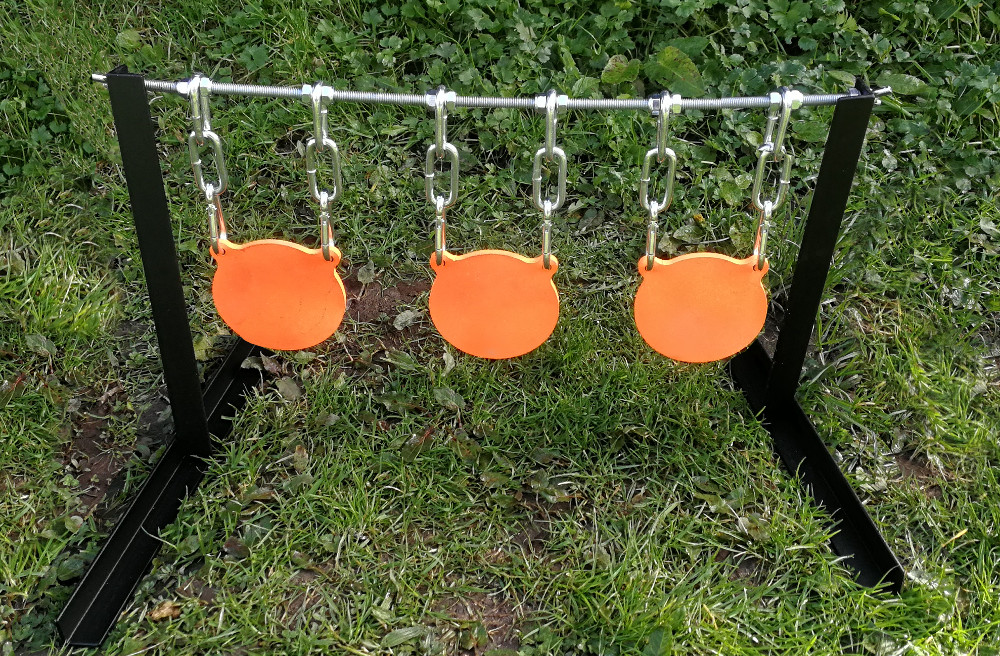 More requests from customers!! This time some gongs for rimfire rifles! We have now made a selection of gongs in 6mm steel with uprated chains and clips.
They look fab! More pics to follow.
February 2020
We have just been asked to make some custom gong airgun targets for 100m and more ranges.
Could these become worthwhile adding to the stock list of airgun targets?
Send me a message if you are interested.
Watch this space for progress!
January 2020
HAPPY NEW YEAR !!!!!!
Just a quick update.
The workshop is now open for business as usual after the Xmas break. I'm trying to get through all the airgun targets orders that came in after Christmas and over the New Year break. There *may* be a slight delay to my normal turnaround times, this is purely down to the volume of orders and should only affect orders already placed and any placed this week.
Next week I expect to be on top of everything.
I've got a bunch of new airgun targets planned for this year including expanding the range of spinning airgun targets even further and some rather challenging 17mm moving airgun targets that reload themselves for hours (hopefully) of fun without having to get up and mess with them.
More on these fabulous airgun targets to come!!
Safe shooting!
Danny
Remember!!
15% discount

for all established airgun clubs (see "Important Links" section, top right of the page for more info)